Driveway sealcoating in Portland, Oregon
Asphalt driveway repair in Portland, Oregon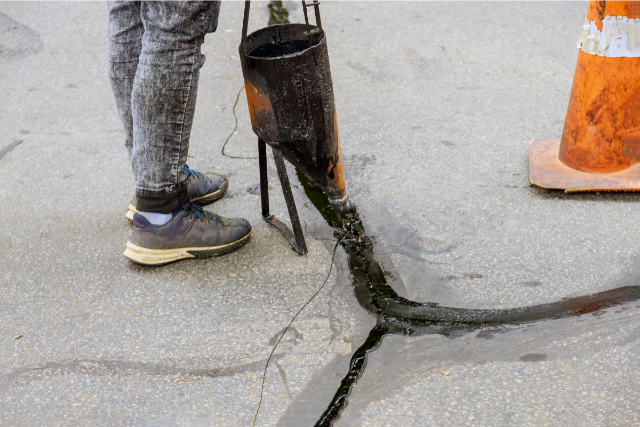 Taking care of asphalt repairs when they're needed is important in maintaining the overall look of your home or business property's exterior. Crumbling and cracking asphalt is usually a major eyesore and diminishes the value of your residence.
The good news is that solutions are possible that involve ripping up the old asphalt and replacing it. When you need trusted asphalt repair service, count on our paving professionals in Portland, Oregon.
Our local, family-owned company has more than 20 years experience in caring for blacktop driveways and parking lots in the greater PDX region. We are committed to helping property owners extend the life of their pavement through quality and affordable professional asphalt repair, patching and restoration services for residential and commercial locations.
Whether you require repair for your asphalt driveway or to take care of a pothole in a parking lot, we're available at your convenience with top-rated workmanship and true value.
Contact us today for fully licensed and insured driveway paving services near you in Oregon. We offer free estimates and consultations.
Our paving patch and restore services
If your paved surface has seen much better days, it's better to get cracks, holes, and damages fixed as soon as you can. If faulty pavement is left to linger, problems can grow and cost much more down the line.
Our expert contractors can help make sure any asphalt issues don't become worse. Regardless of the scope of damage, you can be confident our crew can restore your asphalt to a like-new condition.
Our paving repair services include:
Crack repair

Pothole repair

Driveway repair

Patch repair

Chip sealing
Our company is dedicated to delivering a long-lasting solution to your pavement problems. We work with you on a personal level and take the time to thoroughly investigate your premises to determine the best options for your budget and needs.
A crew leader carefully oversees the entire project to make sure special care is taken with your property from start to finish.
Parking lot blacktop repair work
We have all your parking lot repair needs covered. We offer high-level repair, restoration and blacktop replacement for schools, shopping centers, retails stores, office buildings, apartment complexes, hospitals, hotels, and all other commercial settings.
No repair project is too big or small for our crew to handle. We are available to you to help with lot repairs in emergency situations. Don't hesitate to get in touch with us for your urgent needs throughout the year.

Call us today at 971-288-0060.